Excavator Hydraulic Pumps are what give your machines the muscle they need for heavy lifting, and the main pump is the heart of the matter. If any of its bearings, shafts, heads, coils, pistons, barrel springs, or other components break or wear out, your whole project may come to a stop. And that can happen from over-pressuring, lack of maintenance, contamination, or just routine use. In any case, BRIKERS can quickly ship you the high-quality Excavator Hydraulic Pump you need to keep your machines up and running. We stock main pumps from all the major manufacturers, including CAT, John Deere, Hitachi, Komatsu, CASE, and more!
BRIKERS then builds on the factory-strong features of our Excavator Hydraulic Pumps by putting each one through a rigorous rebuild process. For example, if any part is not in like-new condition, we replace it. We also replace all seals, o-rings, and bearings regardless of condition, and we perform lapping to ensure all surfaces are flat to seal correctly — which is vital for reducing internal oil leakage. BRIKERS' expert technicians even check the oil pressure and flow on our custom-built 500hp test bench. That's why BRIKERS is a trusted source for all your hydraulic pump and heavy-duty equipment needs!
---
Which Brands Of Excavator Hydraulic Pumps Do We Carry?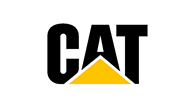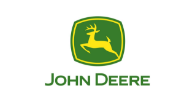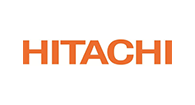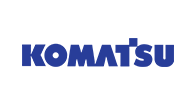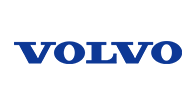 BRIKERS is not an authorized dealer for these manufacturers. Logos are for illustrative purposes only.
---
Examples of Excavator Main Pumps We've Rebuilt and Recertified.
John Deere Excavator Main Pump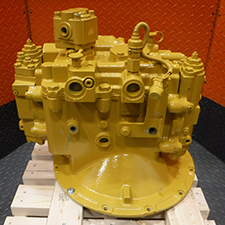 Caterpillar Excavator Main Pump

Hitachi Excavator Main Pump

Komatsu Excavator Main Pump

Link-Belt Excavator Main Pump

Doosan Excavator Main Pump
Shop In Stock Excavator Main Pumps
P/N:

See list

4635645, FYA00003063, FYA00003076, FYA00053205, PG200042

In Stock - Rebuilt

SKU:

hi-main-pump-r-521-31

P/N:

See list

4635645, FYA00003063, FYA00003076, FYA00053205, PG200042

In Stock - Rebuilt

SKU:

de-main-pump-r-521-31

P/N:

See list

10R-5277, 10R5277, 162-6176, 1626176, 173-3381, 173-3382, 1733381, 1733382, 200-3366, 2003366, 244-8483, 2448483

In Stock - Rebuilt

SKU:

ca-main-pump-r-917-31

In Stock - Rebuilt

SKU:

de-main-pump-r-4737-31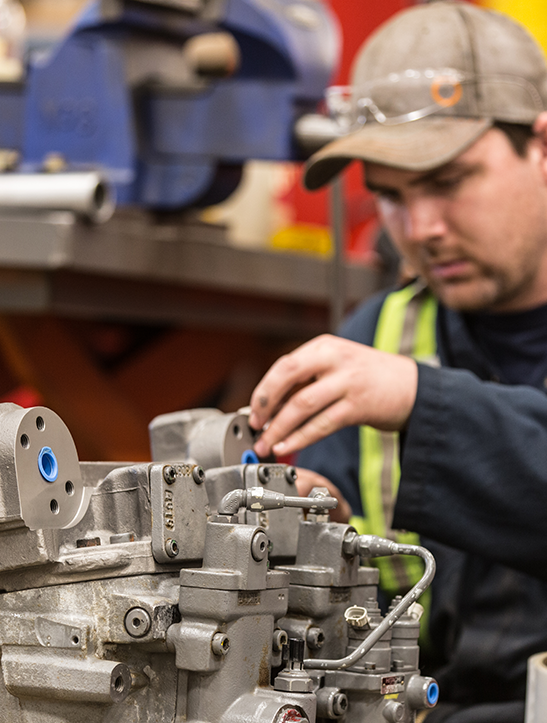 ---
A Builder, Not a Broker
BRIKERS makes some big claims about our parts inventory and quick shipping, and we back them up with a unique approach to business. Most so-called "parts suppliers" you find online aren't selling their own parts. They're acting as middlemen to the actual suppliers and inserting an extra step — and often extra mark-ups — into the process. BRIKERS, however, has its own 44,000-square-foot storage facility that holds more than 10,000 individual components right on-site and ready to go. Once you've completed your order it's just a matter of prepping, packaging, and shipping all at the same location. It makes next-day shipping a breeze, and, in some cases, we can even get your shipment out the same day you place your order!

Who Is BRIKERS?
REBUILT. IN STOCK. READY TO SHIP.

Top Quality
Built and tested by Red Seal certified technicians

Fair Pricing
Up to 60% less than new OEM components

In Stock
Over 10,000 parts on our shelves to choose from

Ready To Ship
Same day shipping on orders before 2 pm PST
Founded in 1999, BRIKERS has built a well-deserved reputation for supplying high-quality heavy-equipment parts to operators around the world — and doing it quickly and affordably. The key to our success? One of the largest inventories of heavy-duty equipment parts in all of North America, most professionally reconditioned by our certified Red Seal mechanics. They'll minimize downtime and maximize productivity even in older machines that are no longer supported by brand-new parts.